Well this week dear
Jenny
has decided to give us a visual prompt instead of a written prompt ... yeah ... i enjoyed getting her words stuck in my brain ... rattling around, looking for companions of my own making ... now it's this d@*# picture ... which has me all confuzzled ... so here's the picture ... our prompt ... and here's what i came up with.
I got nothing … nadda, nil … get it? This week's centus has me feeling about as comfortable as a snowball in an orange grove … melting quickly with no place to hide … so here I sit staring at my almost blank screen … oh, but I do love this screen … after years and years of an ancient tiny screen that my daughter had bejeweled to "make it look pretty" this screen is an amazing pleasure … oh the things I can see … and the things I can't!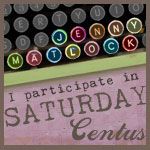 Now make sure you click on the button to see what everyone else wrote!
Peace, love & paper!
~Jo