Well, Miss Jenny has made it very easy on us this week ... the prompt is a very timely "You are my sunshine" and we get an additional 50 words plus the prompt words ... so that's 154 words! I clocked in at 153. We can also use a picture this week but i thought this story worked best without one ... I hope you can paint the picture in your mind...
"Gramma, Gramma, listen to my new song" said the little girl …
"So young" she thought as she smiled down at the child.
"You are my sunshine ..."
As the song from the tiny child began, the scene in her sterile room seemed to fad away and she remembers …
Sitting on the floor, watching her momma sew her "sunshine" dress humming the all too familiar refrain while she stitched … bright yellow cotton with fancy white buttons, carefully picked out from the big button jar on the shelf, two rows of carefully sewn white rick rack along the bottom She can feel the warm stickiness of the freshly oiled dirt road outside her home, hair in braids and the sun smiling on her skin. Happy in her sunshine dress she stops to pick dandelions and wild daisies … and she journeys to the light … finding her way home.
I hope you enjoyed my little offering and
please stop by my giveaway
... so easy to enter and the prize is quite fab if I do say so myself!
Want to read more short shorts? Just click on the Jenny button below to visit her Linky to other participants!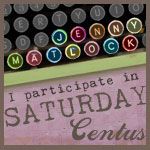 Peace, love & paper everyone!

PS ... I cheated ... well not really, i thought we had an extra 50 words ... you know, on top of the 100 we usually get ... so my entry really doesn't quite count ... sorry peeps!