If you are looking for my OWOH post and giveaway, its
here.
You have until the 17th to leave a comment!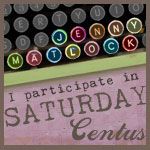 This Saturday's Centus our dear Miss Jenny has decided to give us a visual prompt ... and this week the challenge is to use up to 50 words to write a "Hallmark" card, using this cute little picture
Yo …yo, yo, yo
Just look at you baby
With them big brown eyes
Come on over
I've got a surprise
I wanna give you
A great big hug
If you will let me be your
SuperPug
Yo… yo, yo, yo
There ain't no lovin' like pug lovi'n
So clearly Hallmark won't be giving me a job but maybe the little down the street and around the corner little card shop might ... lol
Peace, Love & Paper!
~Jo