Darn that Jenny Matlock and her crazy prompts! You know the drill ... the prompt is in bold and the rest is all me. Make sure you click on the button at the bottom of the post to visit the rest of entries ... and hey, why not join us, it's a great way to exercise that part of your brain ... and its fun ... yes fun!
The ATM machine began dispensing twenties...
spewing them into the air.
She stood there mesmerized as they danced in the wind, gusts lifting them towards the brilliant blue sky and then stopping to let the green bills drift, only to be caught by another gust.
She watched passersby reach and grasp for the elusive bills … some scurrying away with their new found bits of wealth.
"hmm" … she thought, turning back to her tuna salad. "I'd hate to have to explain to the boss how I lost the ATM funds … and I think my job is tough."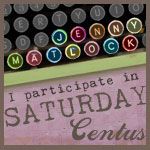 Peace, love & paper
~jo