Well Miss Jenny, is up to her usual tricks! Instead of a word prompt, we have a visual prompt, it's the photo below, and this week while we do get our 100 words ... I didn't need anywhere that many to convey the short little story that popped into my head.
"Papa"
"Yes my son"
"What does Uncle write in his letter?"
"Oh your uncle writes that the weather is so hot in America that you can fry an egg on the sidewalk."
"Papa"
"Yes my son"
"What is a sidewalk?"
Thanks so much for stopping by and giving this a read ... do click on the Jenny button below and go visit other blogs to read short stories that will enchant and enthrall!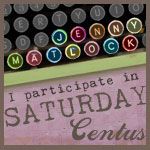 ps, Do stop by on Monday ... I am having a "smashing" giveaway and you wont' want to miss out!